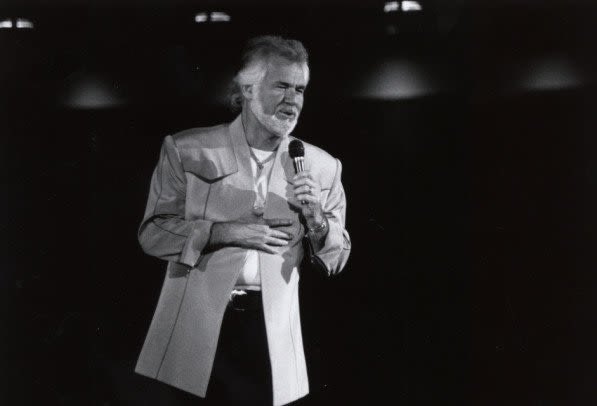 KENNY ROGERS: THE GAMBLER
---
Singer, songwriter, actor, producer, entrepreneur. Kenny Rogers was a jack of trades. The country star died in March 2020. He was one of the true legends of the country music genre, selling over 165 million records worldwide and releasing over 65 albums. His net worth was estimated at around $250 million, made through extensive touring, TV appearances, and constant radio play.
Rogers had been married many times. He paid out $60 million to settle his divorce from his fourth wife, Marianne Gordon, in 1993. At the time, this was half his fortune. He was survived by his fifth wife, Wanda Miller, and five adult children. We can presume Kenny most likely had cash set aside in investment accounts, working real estate, and other retirement assets. While it's unclear how much this amounted to, it's enough to keep his widow comfortable for the rest of her life.
In 1991 he opened a chain of restaurants, Kenny Rogers Roasters, with former Kentucky governor John Y. Brown Jr. The chain eventually grew to include 425 restaurants, in worldwide locations. This should have wrapped up his retirement plan. However, the restaurants started to fail and were sold to "Nathan's Famous Inc." along with the right to use Kenny Rogers's name. The restaurants were later sold again to an Asian company and there are still open locations in Thailand and other parts of Asia. But because he had sold the right to use his name, he didn't hold on to ANY licensing rights for the use of it on these restaurants. This means no licensing fees for use of the name, so there is no revenue from this particular venture for his heirs.
Kenny did not write most of his songs, which means any income from his hits is mainly royalties when his songs are played. His real estate assets included a mansion on an 18-hole golf course that he designed. This was sold for around $4.4 million after his death. He continued to tour until 2017 when his health became an issue. There was plenty of revenue from the full houses he played to. He started selling real estate and other assets to finance his standard of living after he stopped touring.
Not much was revealed about Kenny's estate plan. In that case, we can assume a trust was used because unlike a will, a trust offers privacy and is not a matter of public record. We can presume that the sale of Roger's property is payable to his widow, for the duration of her lifetime. If this is the case, then at her death, the remaining funds will be paid out to Kenny's chosen beneficiaries.
The estate recently spent nearly $300,000 in legal fees to stop a former employee from releasing DVD footage of Rogers's last tour. His estate is currently suing for damages, as they plan their own farewell tour release.
If you have any estate planning questions or questions about family trusts, contact DuPont and Blumenstiel today to learn more about our estate planning services.