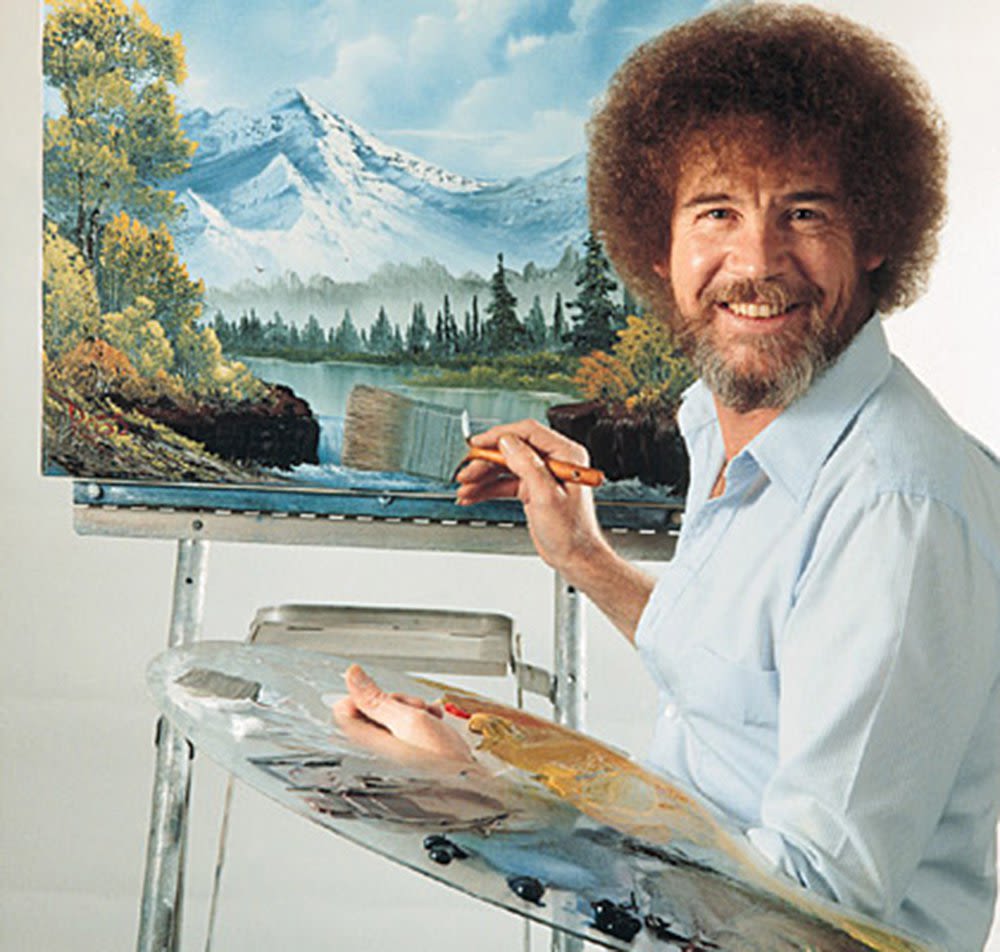 BOB ROSS: THE HAPPY PAINTER
---
His permed hair, softly spoken baritone and gentle ways brought the joy of nature and painting into many of our homes through our televisions screens. His relaxed and calm approach encouraged many to take up their paintbrushes and release their creativity.
Bob Ross became, and remains, a cultural icon. He sadly died at the age of 52 on July 4, 1995 in Orlando, Florida, due to complications from lymphoma. He had one son, Steve. It's ironic that the death of such a gentle soul left a legacy that would be fought over for years to come.
Ross studied under his mentor Bill Alexander, later joining his "Alexander Magic Art Supplies Company" and becoming a traveling salesman and tutor. It was here he met and befriended Annette Kowalski, who convinced him to strike out on his own.
Ross's television show, "The Joy of Painting", ran from 1983 to 1994. Here demonstrated and deconstructed his painting technique for the viewers at home and also filmed wildlife, squirrels in particular, usually in his garden. He would often take in injured or abandoned squirrels and other animals and they would often make appearances on the show.
The show was so successful that Ross was approached by PBS and Dennis Kapp (owner and CEO of the art supply company Martin F. Weber) to produce a line of art supplies and class recordings. This would eventually expand to include classes taught by other artists officially trained in Ross's method. to look after the supply company with Kapp, Ross, his second wife Jane, Annette, and her husband Walt Kowalski signed documents to create Bob Ross Inc., with all four of them being equal partners.
When Ross decided to branch out on his own, it did not go down well with his business partners. When his health started to decline, the Kowalski's sent Ross documents to sign which stated that they owned everything, but they'd agreed that Ross and his heirs would get 1% of revenues for the next decade.
Ross refused to sign these documents and quickly changed his last will and testament to make it harder for the Kowalskis to use his name and likeness. The changes included "a clause specifically addressing his name, likeness, and the rest of his intellectual property. All of those rights were to go to Steve and one of Bob's half-brothers." His third wife, Joan, whom he had married just two months before his death, replaced Annette as the administrator of his estate.
When Ross passed, the Kowalski's did not attend the funeral, sending flowers instead. Ownership of Bob Ross Inc. passed to them. However, they also wanted the use of his name and likeness and went after Ross's art supplies and artwork. They claimed against his estate for business and personal reimbursements, charging Ross's widow with hefty lawsuits and suing PBS. In 1997, Jimmie Cox, Ross's half-brother, settled the lawsuit, practically handing over everything to the Kowalskis.
Steve was not aware of the amendment to his father's will and did not learn of the changes until Jimmie Cox informed him twenty years later. When Ross died, he was worth $1.3 million. Half of that was his third part of Bob Ross Inc., and there was also cash, stocks, and property to divide. After learning about the amendment in Ross's will, Steve legally challenged Bob Ross Inc. The Kowalskis countered that virtually everything Ross had done in his lifetime was a work for hire and thus Ross had no right to bequeath them; the Kowalskis eventually won the lawsuit.
In 2012, the Kowalksi's daughter, Joan, took over Bob Ross Inc., opening up the realm of merchandising for the company. She eventually struck a deal with Steve Ross: if he surrendered his rights to Ross's name and likeness, he could print his name on anything he wanted. Something that had stopped Steve from painting publicly for some time. Steve was able now to return as an art instructor, teaching his father's technique.
Bob Ross's popularity and timeless message about the beauty of the world around us endures today, which many attributes to Bob Ross Inc. He is popular on social media, has his own board game, and tv stations all over the world continue to rerun "The Joy of Painting" to an ever-renewing fan basis.
Estate planning can be as complex and each situation is different. If you have any estate planning questions contact DuPont and Blumenstiel today to learn more about our estate planning services.